Posted in
writings
on March 21st, 2012 by Kevin –
Be the first to comment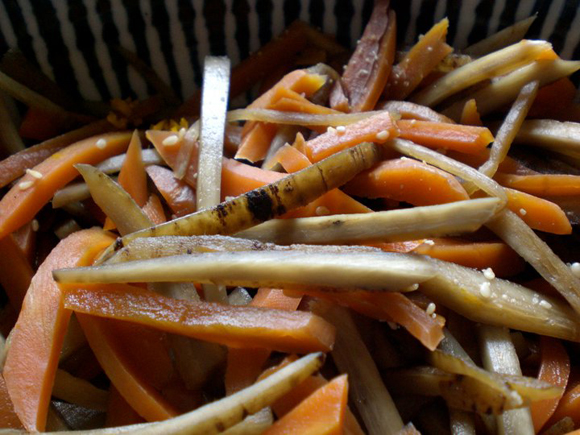 'A few days after the Great Tohoku Earthquake I felt an urge to buy the beautiful muddy burdock root. So earthy and potent, it seemed like the perfect thing to be eating in these days of tectonic shift and nuclear threat. I had recently learnt that Kimpira took its name from the son of Kintaro, a character from Japanese folklore famed for his supernatural strength and ability to fight evil. And so as homage to the earth and in the hope of countering radioactivity, I made Burdock Kimpira.
Ingredients:
Burdock root, scraped* but not peeled, and cut into matchsticks (*try scrubbing with silver foil)
Carrot, cut into matchsticks
Water, mirin, sake (optional) and shoyu
Toasted sesame seeds.
Soak the burdock matchsticks in water to remove some of the bitterness. Sauté the burdock and carrot in oil. Add water, mirin, sake and shoyu to half-cover the vegetables, and cook until the liquid is absorbed. Sprinkle with toasted sesame seeds to serve.'
Tania Coke, Tokyo