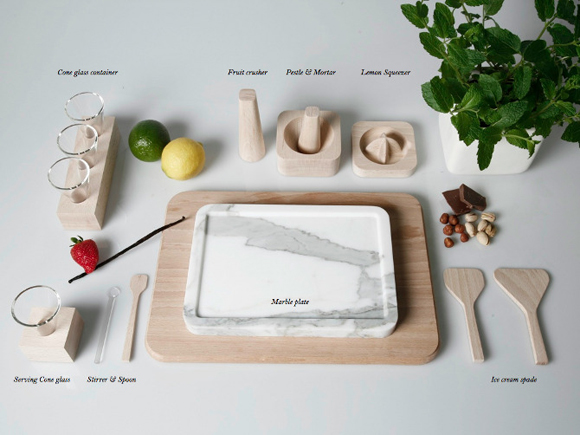 'The food revolution currently sweeping London has brought with it a surge of happenings that cleverly combine food with art, design and experience. What most appeals about this renaissance is the amalgamation of creative disciplines with something that almost everyone loves – to fill their belly!
Central Saint Martins MA Industrial Design graduate Ploenpit Nittaramorn defies the Tesco/M&S fuelled obsession with shortcut food shopping, i.e. packaged sliced 'n diced vegetables and pre-prepared everything, with her ice-cream parlour project – a creative food experiment which places the emphasis on food preparation. Reconnecting people with the process of making, her beautiful ice cream making kit contains a pre-freeze marble platter and bespoke wooden 'ritual tools' plus the recipe to create homemade flavours from Mojito to Vanilla and Singh lemon beer (a sponsor of her degree show).'
An excerpt from an article on Jotta, with thanks to Blandine Bardeau.