I attended a fundraiser for the Te Kohanga Reo o Ranana (London Maori language School) on Sunday, with friends and whanau (family). Held under the protection of Hinemihi Marae (Meeting House) at Clandon Park, it was a nourishing day of culture (Māoritanga), companionship (Whakawhanaungatanga) and culinary delights (Kai reka) including a Hangi: a traditional Maori feast.
The Hangi begins with a raging fire which is used to heat stones, or in this case, iron sleepers. A deep pit is dug (background), wire baskets are filled with Chicken, Pork and Stuffing, and bags of Root Vegetables and Cabbage. The heated stones or iron are retrieved from the fire, and placed in the bottom of the pit. Water is splashed on top to generate a load of steam, the food baskets are quickly placed on top (Meat baskets first, then Vegetables), covered with sheets and wet sacks, then sealed completely with earth, so no steam escapes. An earth oven is created.
Several of the wire basket filled with meat, enough to feed the 2 or 300 guests in attendance.
After three hours or so, the Hangi is ready to come up. The Hangi team get into action with their shovels, to unearth the baskets.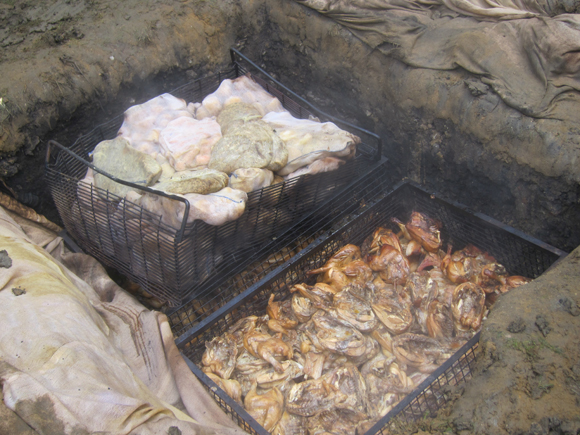 Sacking, Sheets and Earth are carefully pulled away, revealing baskets of cooked Kai (food).
The baskets are removed from the Hangi pit…
…and the spoils shared amongst the assembled guests. Ka Pai!