Pickles, pickles… what would we do without them? Over the last few years studying with macrobiotic cooks and reading Wild Fermentation by Sandor Ellix Katz, I have realised how fermented food has been for a long time an essential element in all traditional diets and how we can include it today. I am fascinated by the processes devised over the life time of humanity to transform food, whether it is grain, fruits, pulses, vegetables, milk, fish… into bread, wine, cheese, pickled vegetables, miso, soya sauce, tempeh, etc.
So I look out for pickles but there are very few unpasteurised pickles around, some unpasteurised misos are available in some wholefood shops. There are some pasteurised gherkins and sauerkraut made with sea salt and no sugar etc also in some wholefood shops. Fermentation is how our ancestors preserved food but what is amazing is that fermentation also makes the food more nutritious and helps with digesting and balancing other food (eg. oily fish, meat, grain etc). Our ancestors found these properties much before we could come up with the scientific evidence.
I sometimes make very simple fermented vegetables (grated carrots and ginger for example work very well – recipe in the Nourishing Traditions Cookbook), yoghurt is very simple to make and I keep my sourdough starter which seems so full of life!
When I go to France, I love going to the 'BioCoop' which sells organic unpasteurised sauerkraut from Alsace… here is a picture, a 1kg pot is about Euro 2.60… amazing. I am planning to go in March and if you would like some, let me know. It keeps several weeks in the fridge.
There is an interesting note on the side of the pot which suggest eating the sauerkraut (choucroute) as it rather than cooking it. It specifies that it is forbidden to cook it in a microwave oven :-). The taste will vary from pot to pot, some are really gentle, some slightly stronger but still very delicate. It is good to eat as it so as not to destroy the enzymes I guess. I use it mixed with cooked greens or mixed with salad leaves etc. it adds crunchiness and a little sourness. There are traditional recipes using cooked sauerkraut to eat with meat (pork in particular) and it is really good cooked in a tempeh stew or with fish… I will have to make another post with a recipe….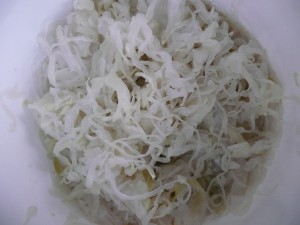 A picture of the delicately shredded white cabbage fermented in sea salt only, the other ingredients? Time and pressure.